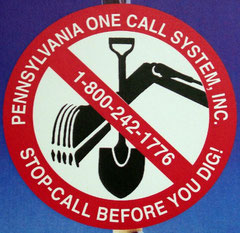 "Call before you dig"
8-1-1 or 1-800-242-1776, 24 hours a day, every day.
If you plan to disturb the earth with powered equipment you are required by Pennsylvania Law to notify the underground utility companies of your intent to do so. Nearby utility companies are notified of your intent to dig. The companies are responsible to mark where their underground lines are located with colored flags, paint or chalk.
Why should you call?
If you are installing a fence or deck, or digging for a mailbox post, patio or other excavation project, it is important to Know What's Below. The utility companies do not want an accident, either. The best way to learn where underground utility lines are located is to call before you dig.
For more information visit: www.pa811.org
Homeowner Quick Tips
One easy phone call to 8-1-1 three to ten business days before digging begins helps keep your neighborhood safe.
Call on Monday or Tuesday if you plan to dig on Saturday or Sunday.
The utility companies will mark where their underground lines are located with colored paint, flags or chalk.
Do not remove the flags if you see them in your yard.
Our service is no cost to homeowners.
Did you hire someone to install your fence, deck or new patio? Ask to see the PA One Call serial number before allowing tehm to dig on your property.