Bradford Township Sanitation Department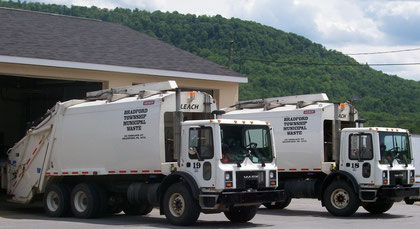 ALL GARBAGE MUST BE OUT BY 7:00A.M.
THE MORNING OF YOUR PICK-UP.

ALL GARBAGE MUST BE BAGGED.  THE GARBAGE CREW WILL NOT PICK UP ANY CANS WITH LOOSE GARBAGE IN IT.
Please have your garbage out at the curb by 7am the day of your pickup. 
 Due to holidays and vacation coverage, we may be earlier or later than your normal pick up.  
We cannot come back to pick up your garbage if you did not have it out by 7am.  

You may bring your garbage to the 
township garbage garage. 

Monday - Friday 
8:00am - 2:30pm
In accordance with the Bradford Township Ordinance, each household has a 3 bag limit. There will be a fee for additional bags or items.